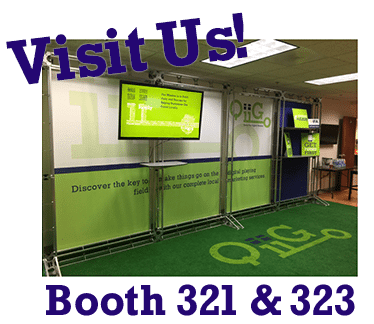 You've heard the saying, "What happens in Vegas, stays in Vegas!" Not this year. At Qiigo we know the truth is that the saying should actually be: "What happens in Vegas, stays on Facebook!" So, let's just be honest with ourselves and take that selfie at the IFA and post it for all the world to see. The team at Qiigo wants to reward you for loving thy selfie, so here's what you do:
Grab a selfie stick at Qiigo's booth and take a selfie
Post it on social media and tag it with #QiiWords
You're automatically entered to win!
Is it worth $500 Cash or an Apple Watch? We think so!
Want more Quality Qiigo Time? Join Jack Monson our Director of Digital Strategy here:
Social Media: Today's Secret Sauce for Telling Your Franchise Story (This session is relevant to all system sizes.)
Monday 1/30 2:45pm (Tradewinds E-F)
Great brands rely on stories to define their brands. With the expansion of social media and consumers "24/7 mentality," today's brand journey must begin, build and extend onto social media. Whether you are looking to inspire, motivate or excite your customers and community, social media continues to play a key role. This session will include franchisors and franchisees who understand how to use this "secret sauce" effectively. We will also share how to use social media to tell the positive story of franchising because in today's rapidly-moving market, we cannot simply raise awareness about our own brands, we need to seize the opportunity to educate consumers wherever and whenever we can about what franchising is and all the great contributions our businesses make. Come prepared to take away practical and tactical ideas from marketing and IT pros that will make a real difference for your business.
Moderator:
Jack Monson, Director of Digital Strategy, Qiigo
Speakers:
Alice O'Donnell, Vice President of Marketing, Massage Heights
Kathleen Kuhn, President, HouseMaster Home Inspection Services
Ali Rausch, Marketing Director, Chicken Salad Chick
Or, join Jack here in this roundtable discussion:
Marketing & Tech Summit: Digital Marketing for Franchise Development
Monday 1/30 at 9am (South Pacific Ballroom E)
We will see YOU at #IFA2017 and on Facebook!
Oh, and if this is your first time learning about Qiigo, we invite you to look around the website and give us a call for a free demo or a friendly conversation. In a nutshell, we are the partner you need to maximize your marketing results. We unify digital marketing for national brands and their locations by helping businesses get found locally. Our services include:
Local Listings Management
Search Engine Optimization
Pay Per Click
Reputation Management
Social Media Marketing
Website Design & Development
#IFA2017 #QiiWords
#QiiWords on Instagram: