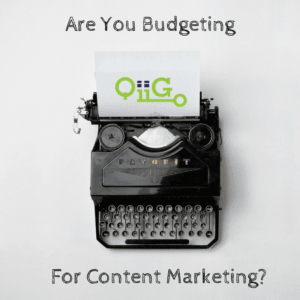 The end of the year is swiftly approaching. That means you should be in budget planning mode. Is content marketing a part of your efforts? If not, you're passing up a prime opportunity to enhance your online footprint and drive traffic to your site.
Consider a few statistics. According to research group Aberdeen, year-over-year growth in unique site traffic is 7.8 times higher for content marketing leaders compared to followers. What's more, according to DemandMetric, content marketing costs 62% less than traditional marketing – and generates about three times as many leads.
That's an impressive return on investments. And it means, when you're leveraging content marketing, you're getting more traffic and more leads – and it costs you less to do so. What are a few other reasons content marketing is so important?
It Builds Trust With Your Audience
When you have relevant, authoritative content to share, it demonstrates your expertise with site visitors – and they come to trust you more for it. In fact, 71% of customers are more likely to buy when they see content about a product or service that's shared from a friend.
If the above reasons aren't enough to convince you that you should be budgeting for content marketing, then think about this: If you're not, then you're falling behind your competitors. A recent report from the Content Marketing Institute stated that, on average, 29% of a brand's total marketing budget is spent on content, with 39% of respondents expecting to increase that number. This means your competitors are most likely investing in content marketing – and if you don't, you could get left behind in 2017.
Don't have time to develop your own content marketing strategy and budget? Let the experts at Qiigo help you. We can also create, schedule, and publish content that helps you build your fan base. Call us today at (888) 673-1212 to find out more about content marketing as well as all of our local franchise marketing services.